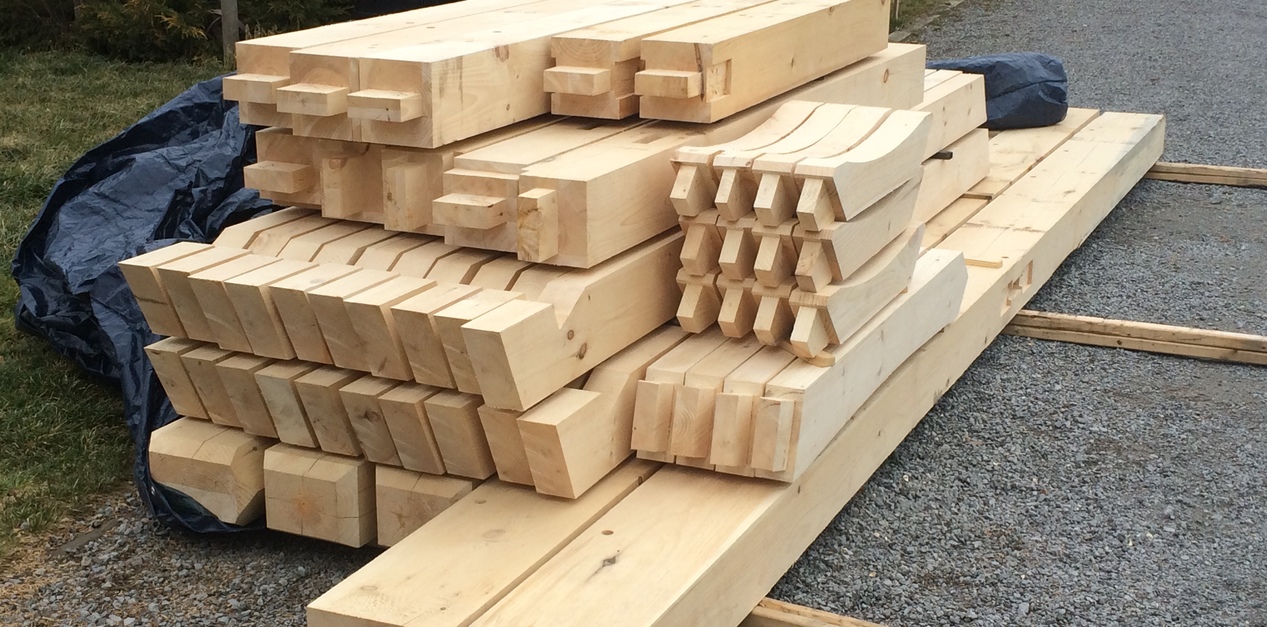 T-I-M-B-E-R… So says the lumberjack when a tree is falling. Where it falls is dependent on careful cuts and considerations made beforehand.
Once you've decided that the beauty and craftsmanship of a timber frame structure is what you want, you'll want to research which company is most equipped to handle your job so things fall into place as you planned. Of course you want your structure to be beautiful, well-built and competitive in cost. Maybe you know exactly how you want it to look, maybe you need more help, perhaps you have an awkward site, existing structures to work around both design-wise and practically, or are time-sensitive. I've put together some tips to help you get started choosing a timber frame company and ensure things fall into place seamlessly.
But first, a little about me, since the internet is full of tips for everything written by anyone, even computers nowadays. I grew up in England where I was surrounded by centuries' old timber frame structures. I've always been interested in how things are put together, I guess that's what intrigued me about timber frame construction, and became a bit of a tech nerd in my 20's when I realized how software could help plan and put things together. I launched Timber Frame Solutions Inc. XX years ago, combining my interests in design software and building. I have an amazing team of skilled, specialized workers who take as much pride in what they do as much as I do.
Top Tip:
When picking a company to work with, no matter what job you're looking to have done, my #1 tip is to spend the time to research their reputation. Any tradesperson worth their salt will gladly provide testimonials and references from clients.
1) Design Options
If you already have your heart set on a timber frame structure, you already know how their unique bespoke quality will add to your property. If you are looking for a basic design, many companies offer "off the shelf" stock plans. If however you are looking for a structure that is truly unique, that is custom-designed and built from start to finish by skilled craftspersons for your exact site location, look-and-feel, and budget, then look for more personalized design services. At TFS Inc. we provide custom design services using the latest timber frame software technology and start with a site visit and consultation. Our highly skilled design team has many years of experience in timber frame design and along with you--and whatever images you might have in your head, pinned to a Pinterest page, or drawn on a napkin--will work to create a design absolutely unique to you. Traditional or rustic, we've designed it all. ​Take a look at our Projects page for inspiration.​ ​ [link to Projects page] At the end of the process you will get full 3D photo realistic images and engineer-approved drawings before we cut a single piece of timber.
2) Build
What's common to building systems of all timber framing companies, the look of post-and-beam construction that you're attracted to, is the use of some form of mortise and tenon joinery. Many companies use machines programmed to cut the timbers, an efficient and exact method. At TFS Inc. we prefer to hand-cut our timbers to fit precisely to plan based on the unique character of each log and where it will sit in the overall structure. We hewn all our timbers from sustainable Canadian-grown wood--mostly Douglas Pine from B.C. but also Eastern White Pine and Western Red Cedar, and work on the frame joinery for every job, no matter how big, in our design shop outside Niagara-on-the-Lake. We arrive at your site ready to assemble.
3) Construction
When it comes to building, I'm hoping you'll take my earlier suggestion to go with a company that's been with you from consultation to manufacture. But regardless, you will want to consider how much time the company will be on site, and the possible environmental damage to your property, At TFS Inc. we deliver every job to the site pre-cut, labelled and with complete shop and assembly drawings for easy and fast construction. Our build team will be on and off your property in a matter of days with minimal, if any, environmental impact, leaving you to enjoy your new timber frame structure sooner.
Here at Timber Frame Solutions, we believe in the beauty and tradition of timber frame construction and put that love in every job we do--but don't just take my word for it.
Think you're ready to see if Timber Frame Solutions might be the right choice for you?