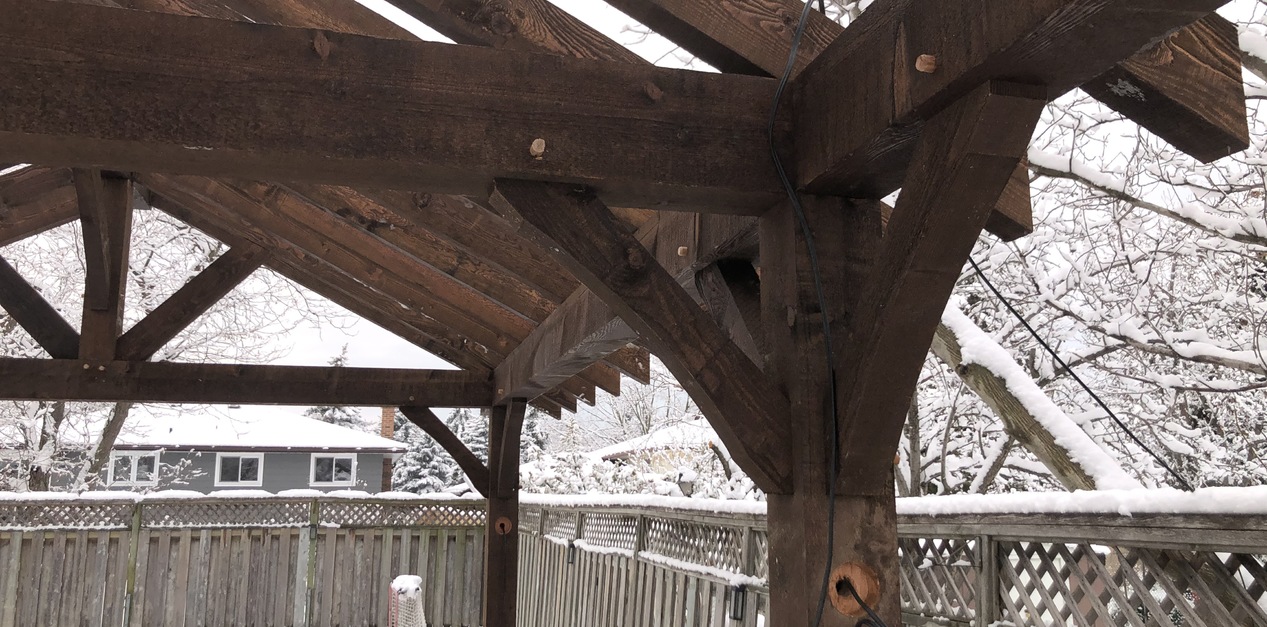 I was born in England but moved to Canada when I was 19. I have now lived here more than 50% of my life so I feel I can objectively comment on Canadian life. It's EXTREME. You guys are hard-core. I've seen -30C and I remember one summer of "30 over 30"--thirty days over 30C! And sometimes it fluctuates half of this difference within days! Freeze, thaw, freeze, thaw. You go from virtual hibernation to practically living outside in summer, bringing out the barbeques, the lawn chairs, and the beer as soon as the last patch of snow is gone.
If you want to enjoy your timber frame gazebo, pergola or porch as soon as summer hits, the best time to start planning is now--for you, for me, and for the wood.
At Timber Frame Solutions Inc. we can do site visits and take measurements, do the design work, get engineer approval, order the timber, cut, join, and stain right through the coldest days of winter in the climate-controlled conditions of our newly expanded workshop.
Best for You:
Starting in winter means you have more time to dream up exactly what you have in mind for your construction, there is more time for the consultation and approval process, the impact of a site visit is minimized on frozen ground, and you are ready to enjoy within days of us coming to install in spring.
Best for Us:
I'll be honest, my employees and I are happy as Santa's elves, constructing in the warm dry climate of the workshop during winter, and installing on the sunny days of spring through fall. But more than that, starting in the winter allows us to do the best possible job on your construction that we can--we have ample time to meet with you, time to get the best-quality timber for the job, and time for any delays with orders and approvals.
Best for the Wood:
Wood is not quite as adaptable as Canadians (see above), at least not when first cut, but if cured properly and evenly it becomes durable enough to stand up to decades of extreme weather. Even though our timbers come from suppliers who maintain the best standards for cure and storage, and then housed in our climate-controlled workshop, the more time they dry before being exposed to fluctuating temperatures and moisture the better. By installing in spring the wood has all summer and fall to dry further before the worst weather sets in.
If you want to get out there and enjoy your timber frame construction--maybe a porch, a garden pergola, or a gazebo over a cozy outdoor cooking area or a pool--as soon as the snow is gone, get started on your project now.